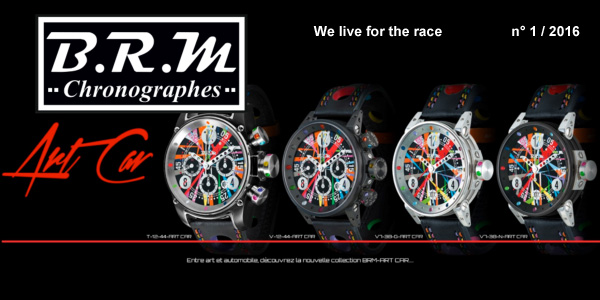 The watch that breaks the rules!

A look back at 2006: the manufacture creates the first R-50, an out-of-the-ordinary, highly innovative titanium model.
With a movement inspired by the engine of a race bike and a cylinder suspended on three carbon fibre or fibreglass triangles, the R50 was designed using the isolastic principle, which involves mounting the flexible movement on a carbon arm.
This superb piece quickly became one of BRM's stand-out models, recognised by all fans of the brand. A timepiece in the pure racing spirit, the R-50 has moved with the times, and today it is available in titanium, makrolon®, titanium and gold or all in gold. All in the manufacture's own colour ways.
In light of this success, in 2015 Bernard Richards launched the R-46, the R-50's younger sibling, designed on the same principle but with a smaller diameter.
A look back in pictures at this model that has had a hand in making the reputation of BRM's watches: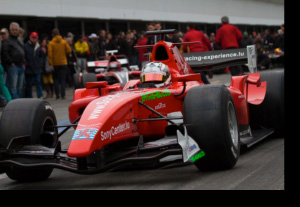 A family team set up 16 years ago by Christian Hauser, whose sons Gary and David have now taken up the baton as drivers.
With over 20 years' experience and numerous victories, Racing Experience is above all the story of a passion passed from father to son over three generations.
Gary, who was Boss GP Champion 2013 and also won nine out of 12 races as a GP2 driver in 2014, and David, who regularly vies for the FIA European Hill Climb Championship with various victories to his name, already have some fine successes on their record, and as of 2016 will be taking on new challenges!
BRM Chronographes is supporting them in this fast-paced venture with a limited edition of 11 specially designed pieces in the team's colours: the V12-44-RACING EXPERIENCE.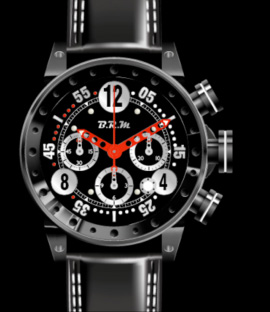 Technical specification V12-44 RACING EXPERIENCE

- Black PVD and stainless steel case
- Black dial with grey transfers
- Black lugs and crown with white lacquer
- Red and grey hands
- Black leather strap with white double stitching
- Automatic chronograph movement
- Limited edition of 11 models



Step inside the beating heart of watchmaking
The one and only French watch manufacture, BRM is delighted to share a glimpse of its unique world with you.
In recent months we have had the pleasure of revealing the secrets of BRM's machining and casing up processes. Today, the visit comes to a close with an opportunity for you to discover the art of finishing as applied to BRM's timepieces.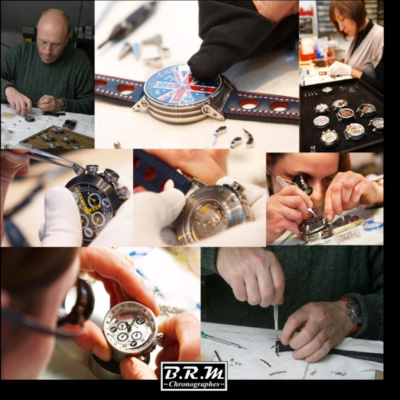 At BRM, each stage of production is unique.
All the key tasks, from fitting to assembly, as well as setting and polishing, are done by hand.
Because you are unique, BRM Chronographes gives you the possibility to customise your watch to your heart's content thanks to its configurator. Opt for the colour and material of your choice with this innovative tool that allows you to choose, compose and assemble the watch of your dreams from over 12,000 possibilities; a real luxury in top market watchmaking.
That is why every BRM is something out of the ordinary, made-to-measure, above fickle fashions, and recognisable anywhere.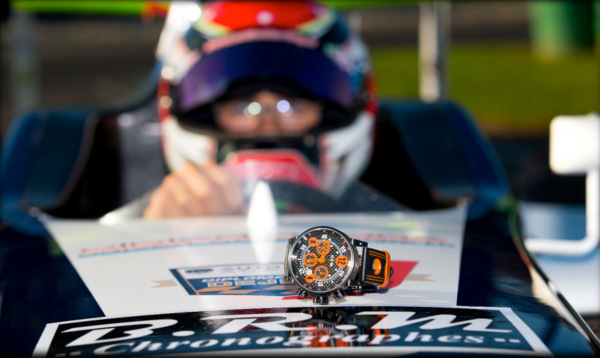 At the age of just 17, in terms of performance Julien Andlauer has proved many times that he deserves his place among France's brightest hopes of his generation for international success.
This young driver, who started karting when he was 4 years old, already has a runner-up title in the X30 Junior Karting World Championship (2012), third place in the X30 Junior World (2013) and another third place in the Europa X30 Junior (2014).
At the start of 2015, Julien, who is always looking beyond the next bend, joined the FFSA Auto Sport Academy and is making his debut in Formula 4. The result of this first season at the wheel of a single-seater? A fine podium finish: third junior in the France F4 Junior Championship!
Julien Andlauer is a genuine champion in the making, with whom BRM Chronographes is delighted to associate its livery!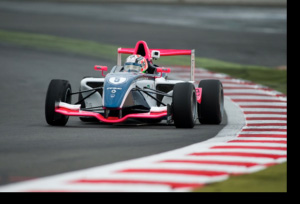 Third junior in the France F4 Junior Championship, congratulations! What is your view of your 2015 season?
Thanks very much! I am not unhappy with it, but nor am I totally satisfied. More than anything, this season was a learning curve, the move from karting to automobiles. The result is not what we expected, as despite some good performances, mechanical problems got the better of us and meant we lost ground in the championship. My involvement and determination all year long allowed me to meet some wonderful people in motorsports, and to enter into some new partnerships, that is one of the very positive sides. The break between seasons has given me the chance to take part in some stages of the ERDF Trophée Andros with the Pack Consulting Group.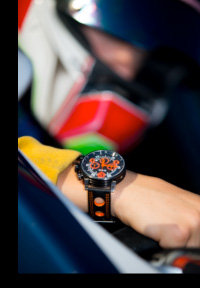 What are your goals for the new year, and what about in the long-term?
My goals for this new season are to finish first junior in the Porsche Carrera Cup France championship, and to make my mark! In the longer-term, my goal would be to become an official driver for a carmaker in endurance, or to become a DTM driver.
You are one of many drivers to wear the BRM livery on the circuit, a word on this?
First, I am very proud of this, and you should know that I do my best to be a good representative for BRM's livery. Joining my image to that of a renowned watchmaker has given my actions greater credibility with new partners, and it is crucial for the next step in my career, so I am really thankful for that.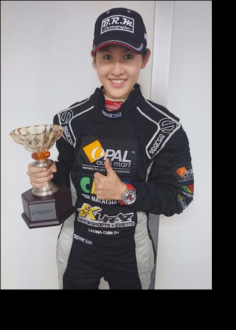 Don't let her sweet looks deceive you: Leona Chin is a young Malaysian driver as enamoured with speed as she is with thrillseeking. She just keeps pushing back the limits of women's motorsports and endurance.
A sports-lover from a very young age, she developed an interest in powerful cars when she was 16 and discovered the world of drifting. Always on the lookout for new challenges, she joined the world of motorsports some time later, by qualifying for her first circuit-based endurance race. She then decided to explore other types of races, such as rallies, autocross, gymkhana and even a little karting, and she set herself the goal of becoming an accomplished motorsports athlete. Mission accomplished, because in 2015 she took part in the Caterham Motorsports Championship, where she took four podium finishes, one in first place.
On 14 January this year in Kuala Lumpur, in the presence of Bernard Richards, representatives of BRM Chronographes in Malaysia were proud to present this promising young driver as the brand's new ambassador!



From the 14th to the 16th of January this year, BRM Chronographes was on the circuit at the Dubai 24 Hours, the first race of the 2016 24H Series. Once again this year, the manufacture will provide the trophies for the championship, and of course watches for the winners!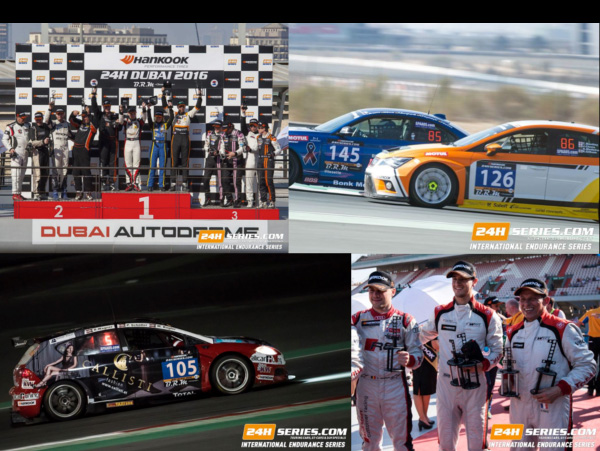 On 19 January 2016 in Jakarta, an exclusive BRM event was organised at Eurobutik (BRM Chronographes' Indonesian point of sale).
A special day for lovers of the brand, who had the chance to meet Bernard Richards, CEO of BRM Manufacture, and Ananda Mikola, BRM ambassador and racing driver.
A number of fans and drivers attended to share in this intimate event.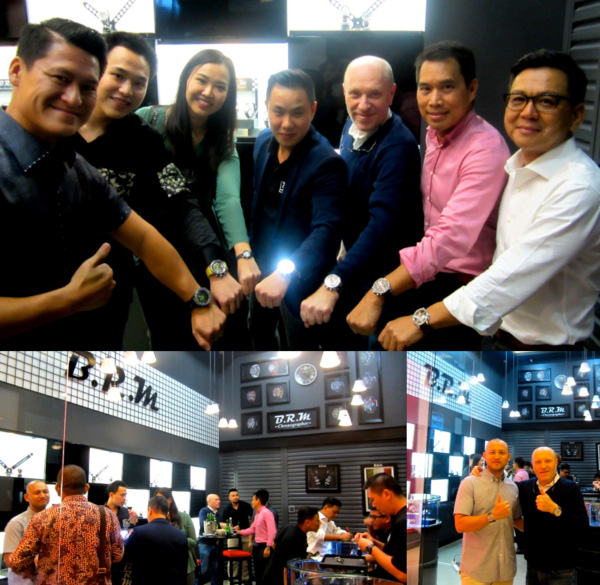 The teams at the various events in 2016 will be delighted to present our collection. They remain at your disposal all year round to cater to your needs.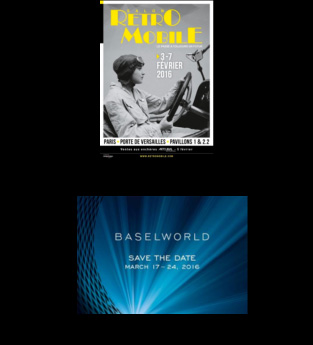 Salon Rétromobile
Paris Expo – Porte de Versailles
3 - 7 February 2016
Stand P09
www.retromobile.com
BASELWORLD
Bâle – Switzerland
17 - 24 March 2016
Stand 0F Palace 5E
www.baselworld.com


To unsubscribe from this newsletter, click here
non contractual pictures