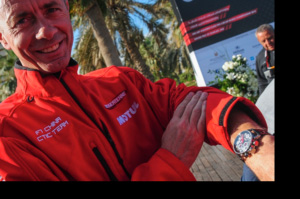 What led you to the world of powerboating?
I was born in the same year as the Rouen 24 Hours, I grew up hearing about this legendary race, and one day I had the opportunity to start out in the S850 category in endurance. I did not really enjoy my first experience to be honest, it was a very difficult year, and the smallest class in Rouen is very tough.
I then continued in the French championship the same year, and for the first time in my life saw Formula 1 in Chalon-sur-Saône. That was the day my passion began, I wanted to be at the helm of these machines...
I then contacted Philippe Dessertenne, who was the only French driver in Formula 1, to ask how I could get into it. The day we met, we instantly became friends, and today, apart from being my team manager, he is my friend. What is more, he knows the sport inside out. He has experienced the stress, the pressure, the fear on occasion, and it is a real pleasure to share all of that. Without him I would never have had this career, nor even continued with this sport.
Two world championship titles in Formula 1, five world endurance championship titles, what a record! You appear to have reached the upper echelons, how do you see your career so far?
My greatest source of pride is that this individual record is in fact collective. I have had almost exactly the same team since I started out, and together over the last 12 years, we have climbed through the ranks to be the best in the world today.
What are your goals for the coming years?
I wanted to stop after winning my first title in 2014 to be sure to walk away with positive memories. We had won everything (Formula 1, endurance, the French championship, the Rouen 24 Hours), we couldn't do better if we continued, and I am also a Formula 1 veteran.
Our Chinese partners pushed for me to continue, and all the staff too. We took all the titles again in 2015.
As such, we decided to continue for another season in 2016, and we will see what the results are like at the end of the year.
Actually, I do not want to stop, but I especially do not want to stop at a time in my career where I will no longer be at the highest level to bring the team a win. I could not stand to be the cause of poor results. That is why we are also starting to work to prepare the future, with my co-driver Léo, and on several other possibilities for the future.
I am very lucky to be able to decide when I will stop, and to be supported by my sponsors and my team. It is also my great strength, I am aware of it, it is them I am fighting for in every Grand Prix, to make them proud of their driver.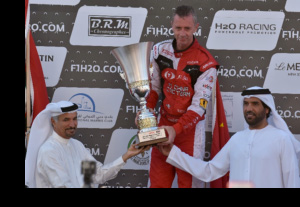 You discovered BRM not long ago, a word on this?
I just knew the brand from specialist magazines, I was already a fan... The brand is in the image of our passion, the design and technology represent everything we love. And now, I have one on my wrist.
It's the best!